Lucrin sells a selection of small leather goods for men and women. These genuine leather products will be your constant companions for years on end. Our small leather accessories are the epitome of understated elegance, made from top-quality leather in eminently practical designs. Most, if not all, of our products can be customised for a truly unique finish. Here, you will undoubtedly find your new daily companion or a special gift for your dear one. Why not take a closer look at our small leather goods range?
Wallets
Slim, functional and timeless
Our line of wallets is adored by leather enthusiasts who aim to exude quality and elegance. Handcrafted with uncompromising style and leather, these luxury wallets are fashion fundamentals to be owned by everyone. Combining traditional charm with modernity makes Lucrin wallets timeless pieces to be used for years to come.
Leather Cases for your Glasses
Your luxury shield against scratch and smear
These leather cases for your glasses fuse uncompromising craftsmanship and luxurious practicality to become an everyday essential for you. Their slim and light silhouettes are endorsed with microfibre lining for additional protection of your glasses. Monogram your initials to enhance the understated elegance of your case!
Wearables
Designed exclusively for fashion mavericks
Shake up your winter wardrobe with Lucrin's sleek and bold leather gloves! Our wide range of gloves will let you hop from equestrian to urban chic aesthetics in the blink of an eye; to be styled with our matching leather belt for an even more distinguished sense of style. Combat winter blues and low degrees, all while infusing panache in your look.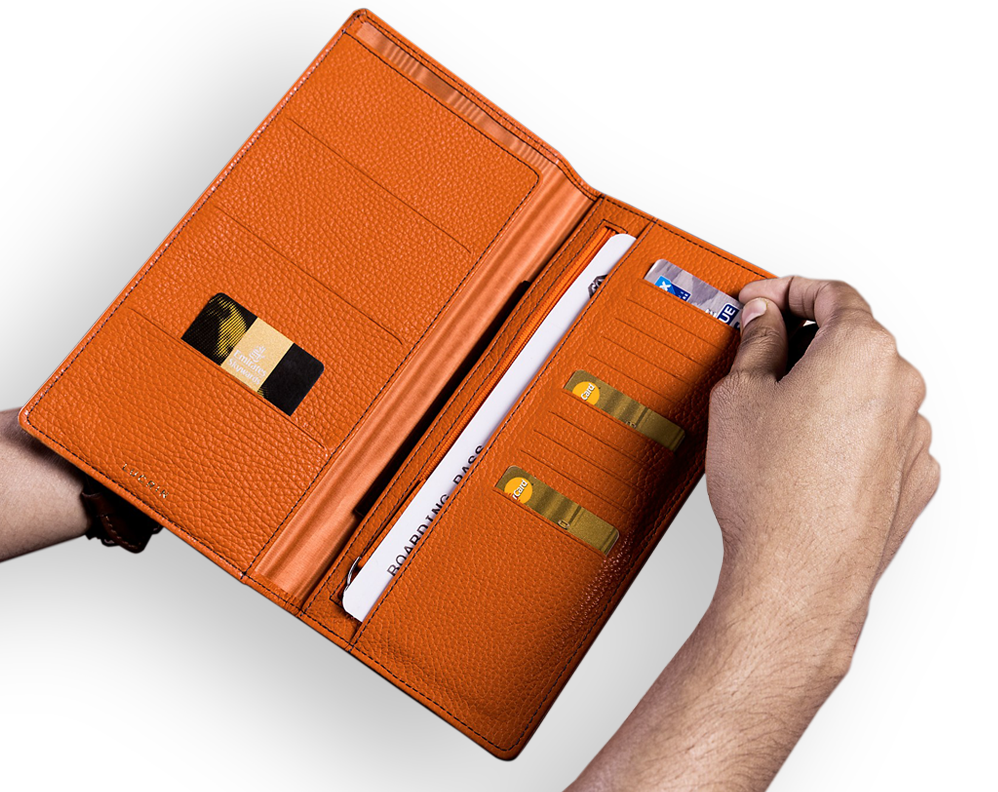 Travel Accessories
Add a touch of luxury to your travel plans
Lucrin's collection of travel accessories has been curated to make your underwhelming travel moments more enjoyable. With travel plans lurking around the corner, our leather customisable travel wallets, passport covers and luggage tags make for handsome options for all jet-setters. These handy travel companions will stay sophisticated and timeless - regardless of the destination!
Key Chain
Designed to accessorise your keys for years to come
Our leather keychains work double duty, being the custodian of organised keys as well as being eye-catching accessories. Lucrin has designed key chains in various fun models crafted in soft leather textures to add little everyday luxury to your dressing. These personal talismans can be customised with monograms, in colours ranging from classic to bold hues. Even those inclined towards chic minimalism will adhere to these stunning keychains with sterling silver key rings.
Watch Cases & Jewellery Box
Luxurious storage for your precious watches & jewellery
Lucrin's leather watch case is ideal for all serious timepiece connoisseurs who would like to safely display and carry their valuable collection. We also have designed luxury jewellery boxes for the preservation of your necklaces and rings amassed over the years. Lined with plush microfibre, these leather storage accessories will look stunning on your vanity, without encumbering your space. Add a simple gold-tone engraving to make your leather watch case and jewellery box testaments to your aesthetic.
Perfect Gifts
Everyday understated elegance
This range regroups additional artisanal leather accessories, curated for those who love having it all! Leather goods such as pen cases will appeal to your masculine minimalist taste. We also have handy accessories such as our pocket mirror, lipstick case and bag hanger, designed for the everyday women on-the-go. Customise these accessories in pared-back pastels and neutrals for a luxury classic aesthetic, or choose from our vast palette spanning hues to add a vibrant pop of colour to your monochrome looks. These leather accessories also make for special gifts and future heirlooms with monograms.