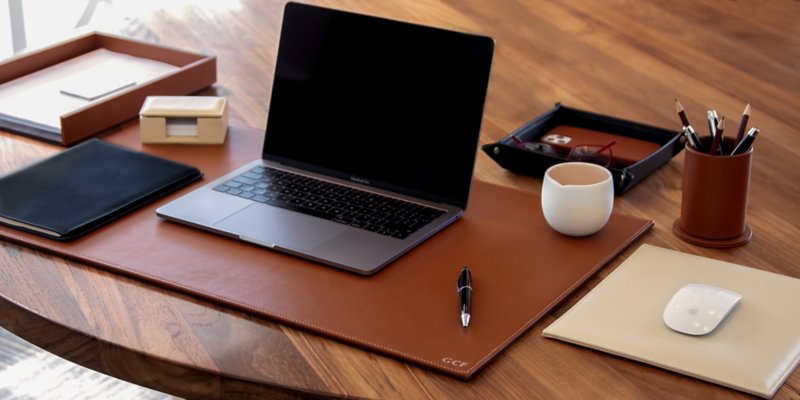 Office Leather Accessories
A refined and classy workspace
Discover the widest range of office leather accessories available on the web today. Besides their varying functionalities, these articles add a succinct touch of elegance and class to your workspace. Conceived in one of the best genuine leather of the market, the organisers, folders, binders, paper trays, and the rest of Lucrin's catalogue are hard to find elsewhere. See more
May it be for classifying your documents or making your office decor better, pick the leather office product that will best suit your needs and tastes. Furthermore, you have a large palette of colors and leather types to choose from, which therefore increases the likeliness of you finding exactly what your working environment needs. For those with an affinity for writing or calligraphy, you can choose among the various models of pen cases, pencil kits and canisters. You will also find the absolutely gorgeous desk pads and blotters as well as premium desk sets. See less
Our finest desk set in crocodile style leather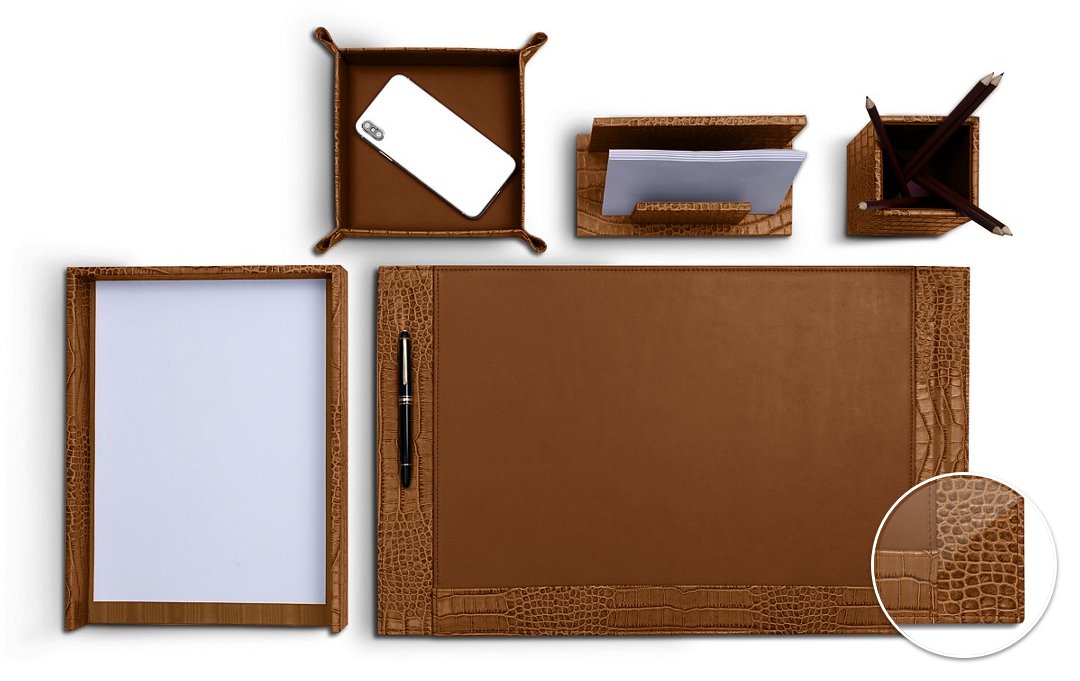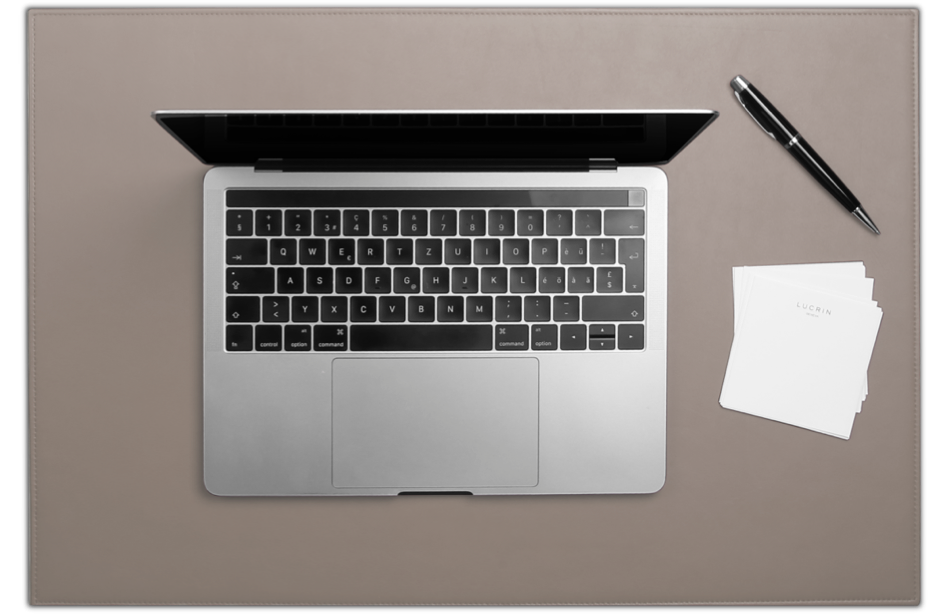 Desk Pad
All in the details
LUCRIN Geneva's leather desk sets are the kind of details that can make your life easier. A huge variety of models are available to add a mix of functional elegance and aesthetic bliss to your workspace. Add life and comfort to your every day with these customisable desk accessories.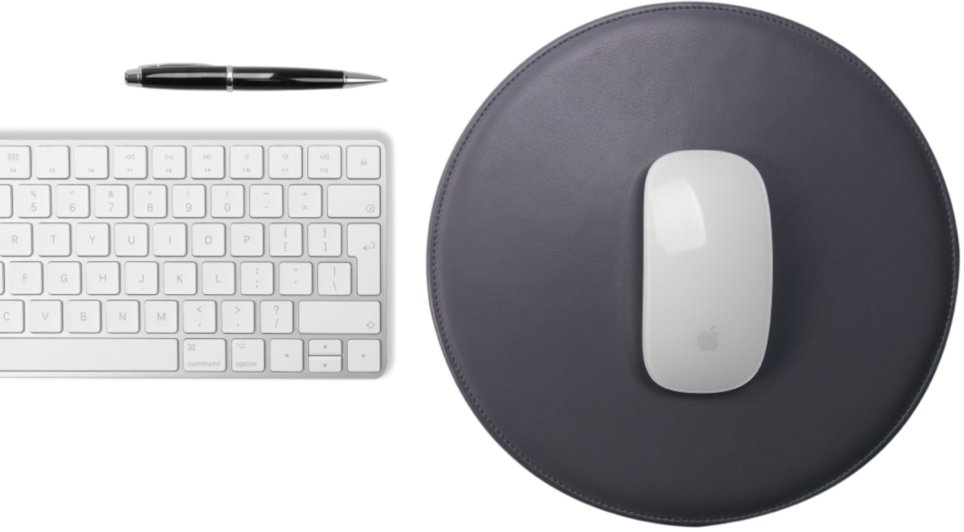 Mouse Pad
A subtle status symbol
LUCRIN Geneva's leather mouse pads will become a necessity for those tackling long days of work. A staple among executives, our ergonomic mouse pads will complement your elegant mahogany desk. A flat and beautiful surface along with the right cushion makes these the perfect combination of luxury and practicality...
Our bestsellers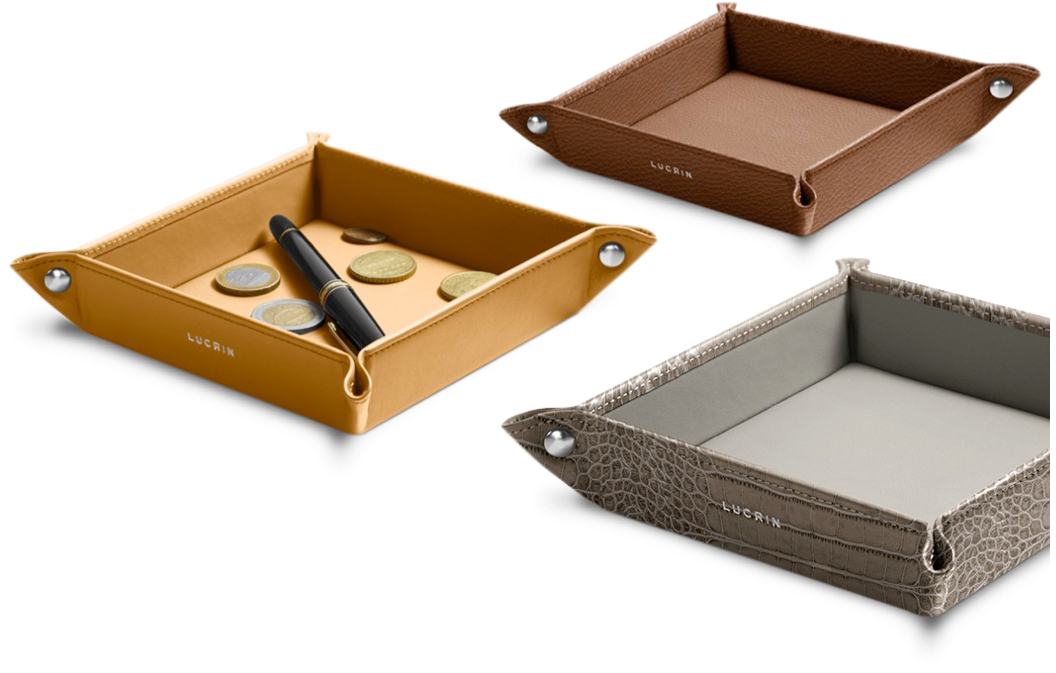 Tidy Trays
Simple solution for your lost keys, loose coins, or your misplaced phone.
Our valet trays are 100% leather-made, be it the exterior or the interior side. Customize yours in crocodile style leather, goat leather, or one from the Duo Collection, granulated or smooth leather. The choice is yours.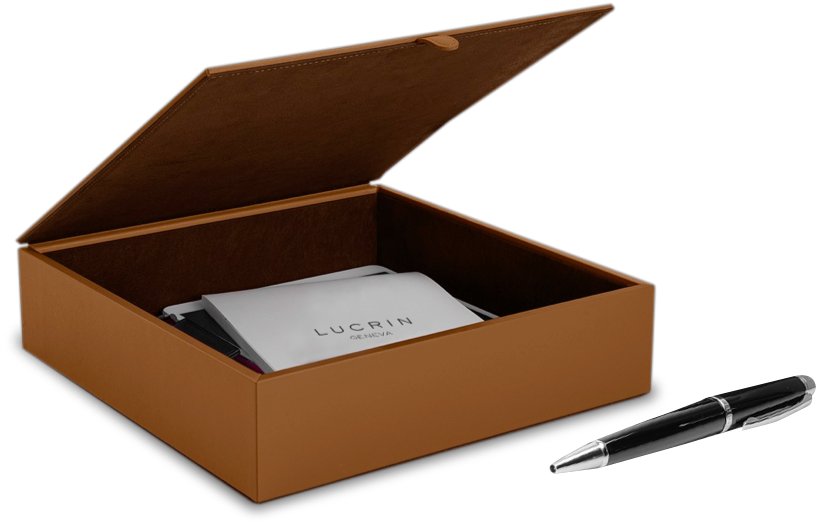 Storage Box
Out of sight, out of mind.
Our collection of luxury leather storage boxes has been curated specially to help you declutter your workspace. Ensure that telltale signs of paperwork don't encroach on your desk by hiding them away. These elegant storage boxes are customisable and will blend in seamlessly with your working environment.
Our bestsellers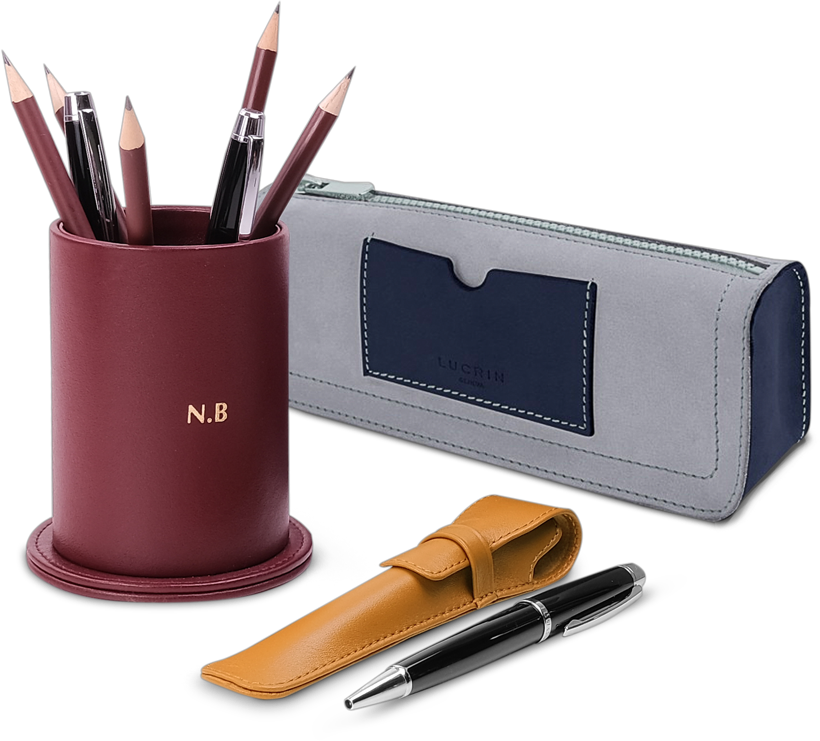 Pen Accessories
For the writer in you
Whether you are an avid writer or have a fervent passion for penmanship, LUCRIN Geneva has the perfect collection of handcrafted leather products to capture the heritage and prowess of your fine writing instruments. Choose and customise pen cases, sleeves, holders and trays to make them one-of-a-kind.
Our bestsellers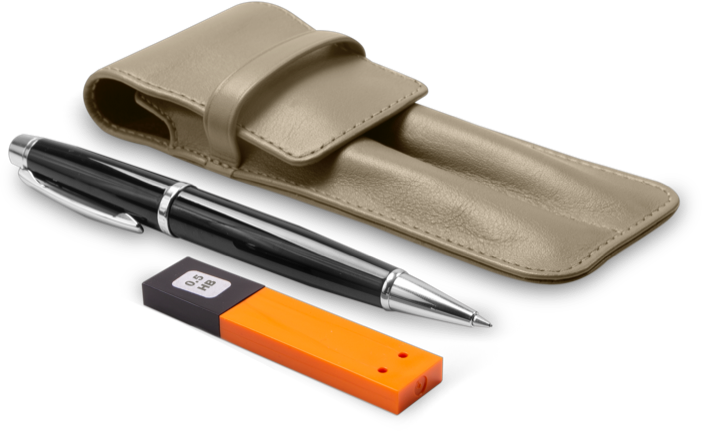 Luxury Pen & Pencil
Writing instruments designed to capture your thoughts.
With LUCRIN's executive pen and mechanical pencil, you will be filling page after page with ease. Oozing elegance, theser luxury pen and pencils are ideal for commemorating special events and achievements. Monogram your leather pen and pencil case with a date or initials.
Our bestsellers
Paper Tray
For those who love elegance & design
LUCRIN Geneva has curated a collection of sleek and streamlined leather paper trays for you to polish your desk setup. Customisable in a wide palette of hues, our luxury leather paper trays are standout office accessories designed for storing all your paperwork and correspondence. Stack several paper trays on top of each other for additional storage solution.
Our bestsellers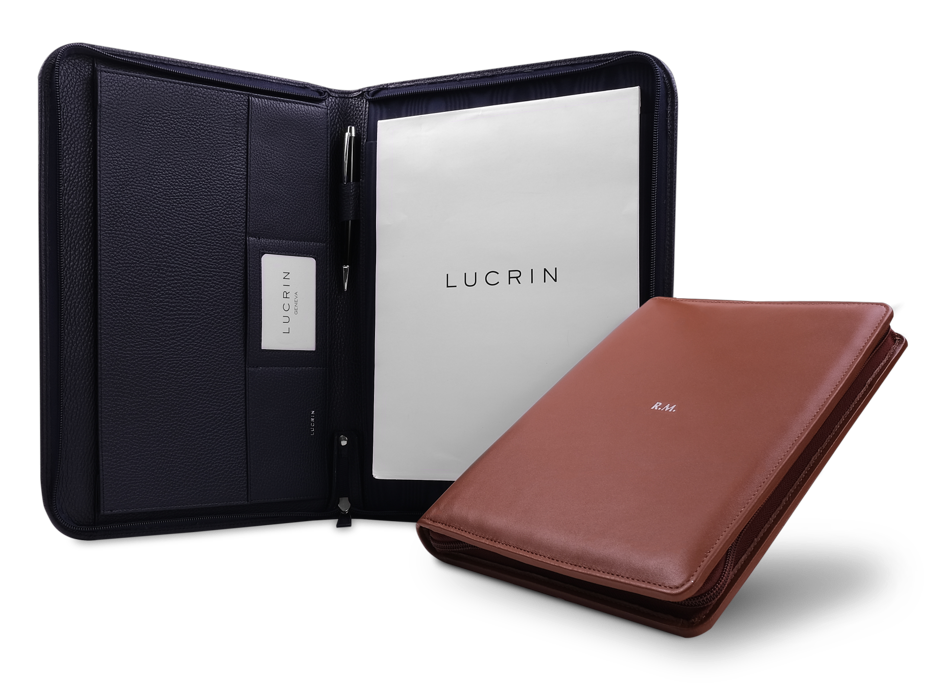 Portfolios
An embodiment of modernity & tradition
Sleek and compact, our document holders are a business classic designed to hold everything you need for work in one place. Our premium leather folios and ring binders come in A4, A5, and A6 sizes and various closure options - zippered, snap-button fastening, or strap.
Our bestsellers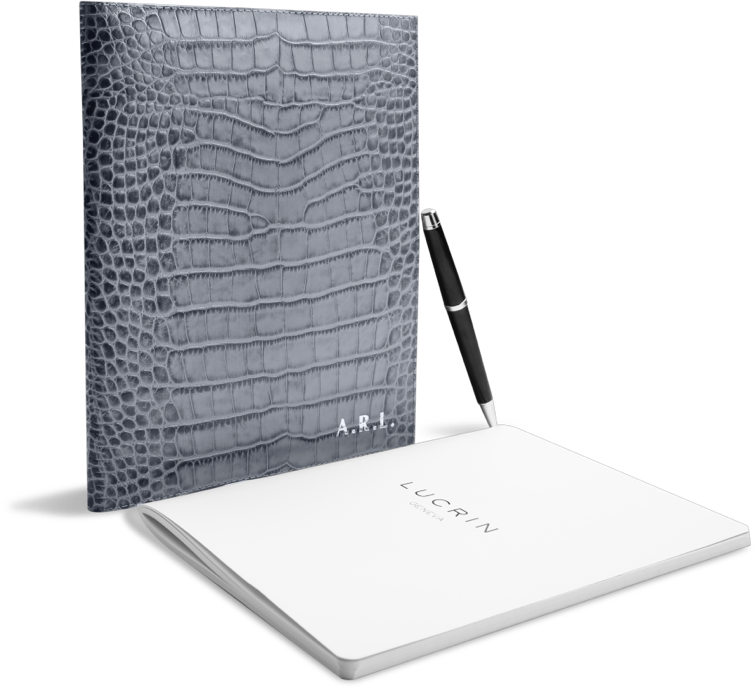 Notebook Covers
A tribute to you and your adventures
More than just ivory pages, the right leather notebook can make a statement. LUCRIN Geneva puts forth a collection of timelessly sophisticated leather notebooks for you to jot down all highlights and lowlights of your life. Personalise your notebook with initials to create the perfect companion for you.
Our bestsellers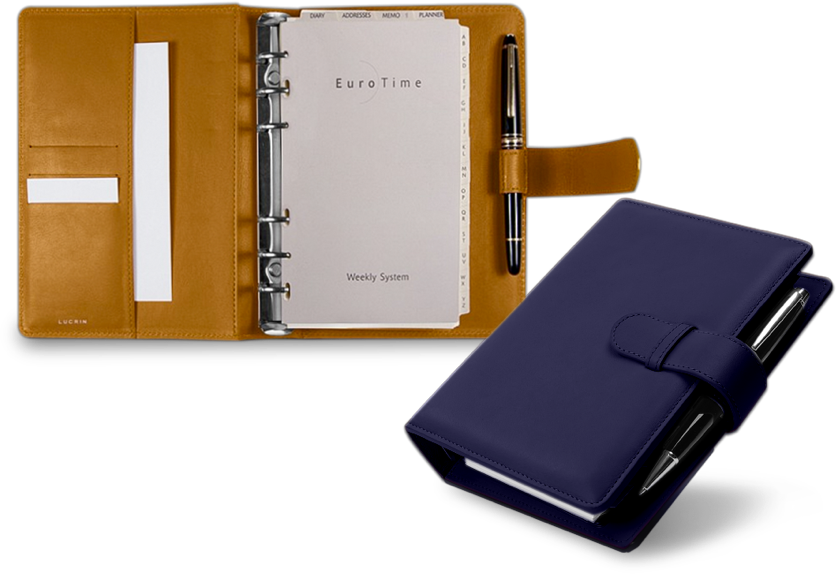 Organizer & Diaries
Commit your plans to paper
There's nothing like a pen and paper to help you get organised. LUCRIN Geneva proposes a collection of organisers and diaries for all those who hate fumbling with their Google Calendar. Weekly and monthly overviews along with ample space for jotting down your goals, to-dos and dates are available to hold all your plans in place.
Our bestsellers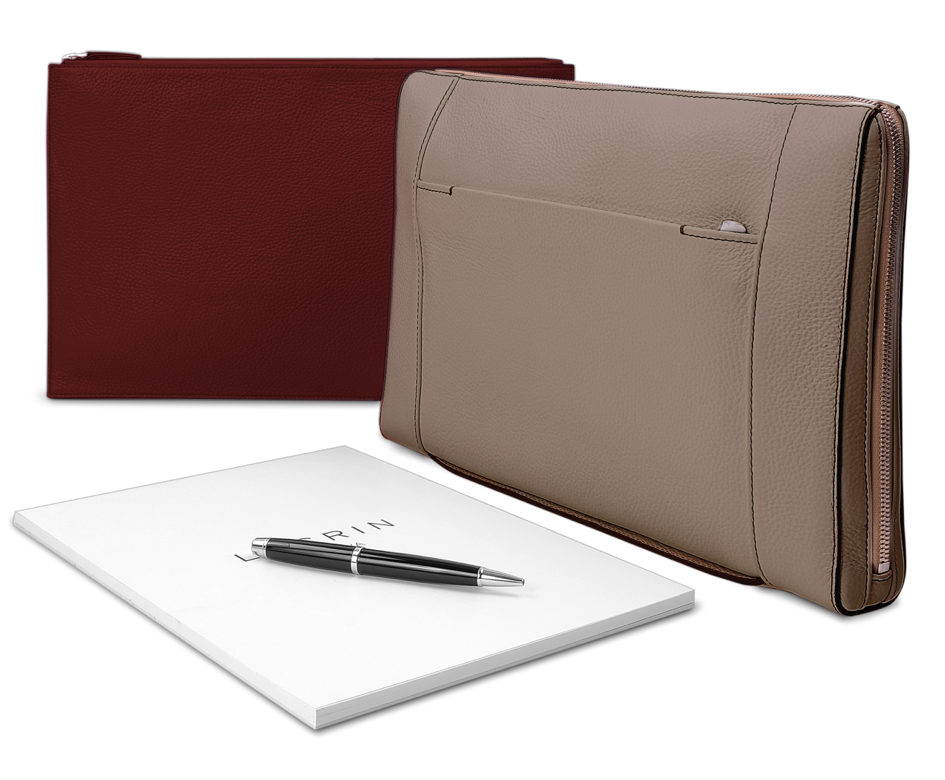 Document Holder
The epitome of suave sophistication
Our collection of light and functional leather holders and pouches let you house your work essentials without compromising your efforts to dress sharply. Built for the long run, they take you effortlessly from your board room meetings to the bar while commanding respect and conveying confidence.